Our Services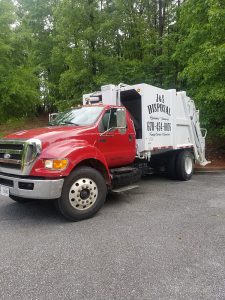 J&S Disposal is a local family owned and operated waste business serving Pickens County and Northern Cherokee County in Georgia. We take great pride in our work and carry a strong work ethic. J&S Disposal offers prompt, friendly, and dependable service to all our customers Monday-Thursday. We are committed to providing exemplary residential and commercial waste removal service to our customers in Jasper, Waleska, Ball Ground, Tate, Marble Hill, and Talking Rock.
J&S Disposal is pleased to be your choice for all your disposal needs.
Residential Curbside Trash (96 gallon totes)
Small Business, Restaurants, and Commercial Container Service
Free Estimates
Environmentally Friendly
In-Yard Trash Service
Holiday Schedule
J&S Disposal has regular pick-up schedule for Residential trash for ALL holidays except Thanksgiving and Christmas.
Thanksgiving will be picked up on Friday following Thanksgiving.
Christmas will be picked up the following day.
Pickup Time
Residential customers are reminded, all curbside pick-ups need to be placed by the curbside no later than 6AM on your scheduled collection day. Thank you for your cooperation.